HOMEMADE COUGH MEDICINE Remedy Recipe

READY IN: 5mins
YIELD: 4-8 doses
UNITS: US
INGREDIENTS:
1⁄4 teaspoon cayenne pepper
1⁄4 teaspoon ground ginger
1 tablespoon honey
1 tablespoon apple cider vinegar
2 tablespoons water
DIRECTIONS:
Mix ingredients.

Take by the teaspoon as often as needed for cough.
Do not give to infants under 12 months due to the honey (though I doubt you could get them to take it anyway!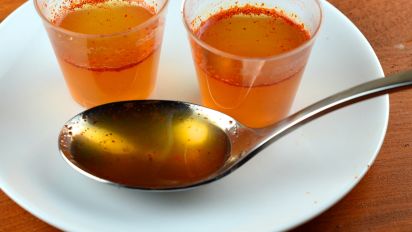 Warning: The reader of this article should exercise all precautionary measures while following instructions on the home remedies from this article. Avoid using any of these products if you are allergic to it. The responsibility lies with the reader and not with the site or the writer.
More articles from the

Remedy Recipes

Category