Flu Buster Soup Remedy Recipe

A delicious, creamy vegetable soup without any cream, this gluten-free, vegan, paleo, and Whole 30-friendly recipe is packed with lots of antiviral goodness.
Prep Time:
10 mins
Cook Time:
25 mins
Total Time:
35 mins
Ingredients:
1 Tablespoon olive oil
1/2 small onion, chopped
2-3 cloves garlic, peeled and minced
1/4 teaspoon ground turmeric
1 teaspoon peeled, minced fresh ginger root
2 small potatoes, chopped (peeled, if you like)
1/2 head of cauliflower, chopped (about 1 1/2 cups)
1 medium zucchini, chopped
2 large carrots, chopped (no need to peel)
2 stalks of celery, chopped
salt and pepper, to taste
juice of one lemon (about 2 Tablespoons)
4 cups vegetable broth or chicken broth
1/4-1/2 teaspoon cayenne pepper (adjust to preferred level of spice)
Greek yogurt, if desired, for serving
Instructions:
In a large pot, heat the olive oil over medium heat.

Saute the onion, garlic, ginger, and turmeric for a few minutes, until onions start to soften and become translucent.

Add the remaining veggies, and salt and pepper, and saute for several minutes longer.

Pour in the lemon juice, and stir to coat the vegetables.

Add the broth, cayenne and additional salt and pepper, if desired bring to a boil, cover and boil for 10-15 minutes, or until the veggies are soft.

Use an immersion blender, or add the contents of the pot to a blender of food processor (in portions, if needed, based on the size of your blender), puree until smooth and creamy.

Return the soup to the pot, and heat through.
Serve with Greek yogurt, if desired.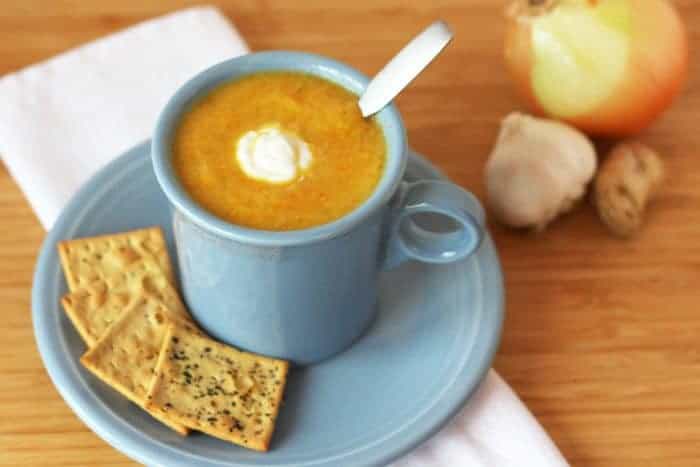 Warning: The reader of this article should exercise all precautionary measures while following instructions on the home remedies from this article. Avoid using any of these products if you are allergic to it. The responsibility lies with the reader and not with the site or the writer.
More articles from the

Remedy Recipes

Category